Digital Signage For Education - School Library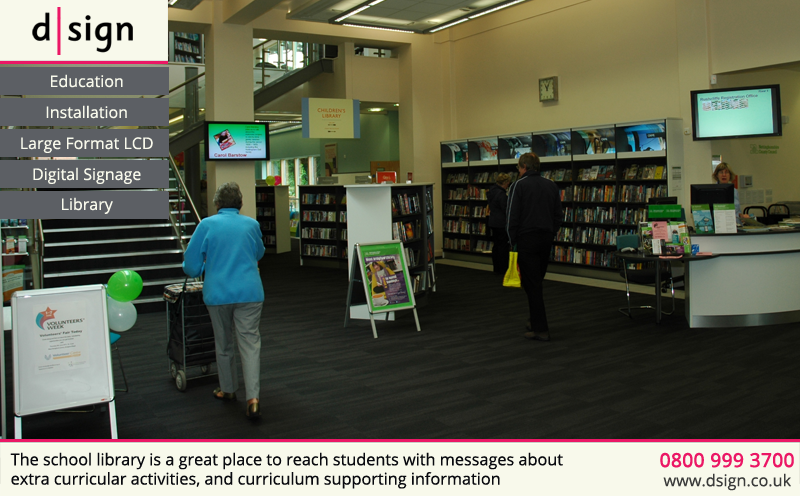 Bring positive messages from the first interaction
The reception area is often the first point of contact between your school community and infrequent visitors - making it an ideal place to make a great first impression.
There are an almost unlimited number of ways you can effectively use digital signage in your school or college reception area, and it's easy to get started - take a look further down the page for a few examples of how our current clients use digital signage in their reception areas.
What can I do in my school library?
Points, Targets and Results
Use the d|sign Counters App to maintain and easily update or automatically increment important facts.
Create a leaderboard for your school's house points system, or a countdown to the end of term or start of exams to keep everyone focused and on target.
Enforce School Policy
Use your screen to introduce, remind and engage students, staff and visitors about new, forgotten or ammended school policy. Add visual health and safety information and remind students about your policy on bullying, inclusion and internet usage.
Showcase student work
What better place to display your students work and achievements than to new visitors and the parents of prospective students.
Highlighting excellence rewards students and inspires attainment. Display with images, videos or simple text acreditations.
Ask us about how you can also use the d|sign Cloud Gally App to allow all staff members to contribute content from any computer or smart device.
Announce Forthcoming Events
Use d|sign to tell visitors and staff about forthcoming events, important dates and even sporting fixtures.
You can do this simply with images and text, or for more control and features use our d|sign Events App, for each event add venue information, images or even wayfinding information. Read more about d|sign Events & Roombooking