Visitor Management & Registration
Welcome, Announce and Monitor Visitors to Your Organisation
d|sign-in combines traditional digital signage with visitor welcoming and management.
With strategically placed screens d|sign-in allows your visitors to sign in digitally via touch screen or keyboard and mouse.
d|sign-in can streamline your visitor sign-in process, print visitor passes, give directions and notify meeting organisers of an arrival.
Major d|sign-in Features
Visitor self service sign-in and sign-out
Pre-register expected visitors
Print visitor labels
Notify hosts of arrivals
One-click emergency evacuation report
Custom options for different types of visitors
Optional site policy display and acceptance recording
Comprehensive cloud based management suite
d|sign Digital Signage integration
First Impressions Count
d|sign-in looks stunning on your reception desk and leaves a great first impression - visitors appreciate the speed and efficiency with which their arrival is processed and the easy to use nature of the system.
When not interacting with the screen, useful information such as traffic, weather, news, health & safety messages, adverts and more can be displayed.
Throw away the tatty visitor book - no more illegible writing, missing information or searching for a biro
Get a free online demonstration of d|sign-in!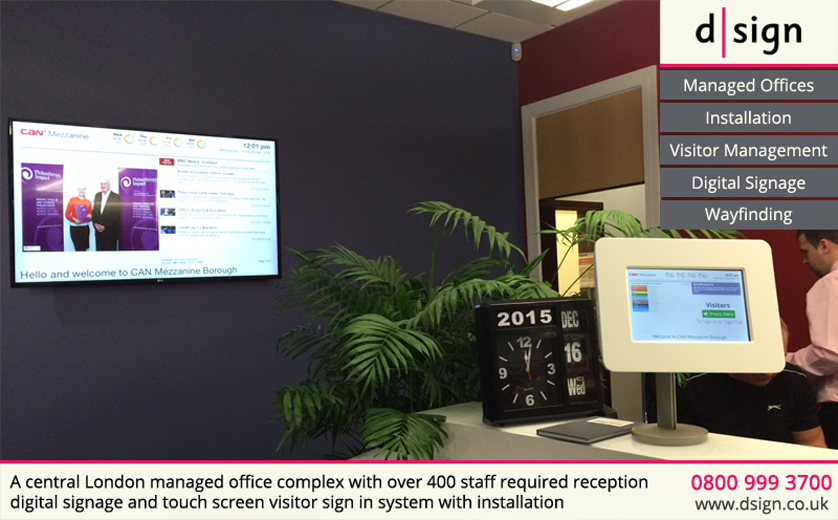 Save time for visitors and staff
Providing visitors with an automated signin process allows them to get to their destination faster with less queuing and waiting. Meeting organisers can be notified of arrival by mobile or email, in addition to your reception staff contacting them.
This means your staff save time and can concentrate on other tasks and visitors spend less time waiting to move forward to their final destination.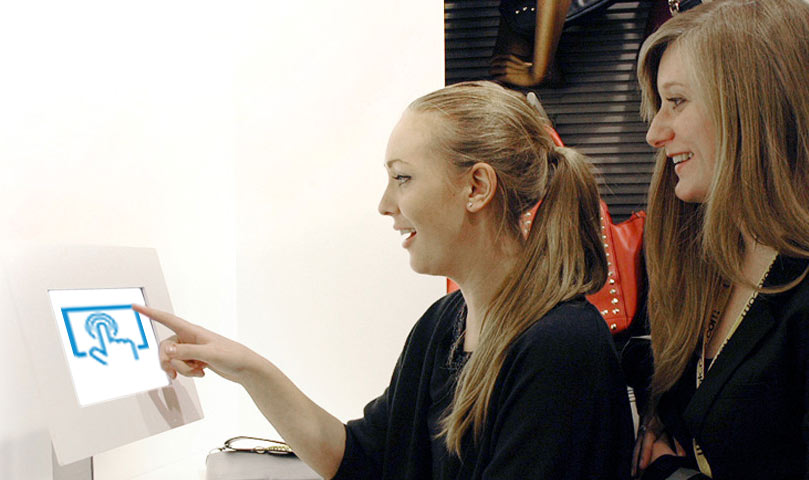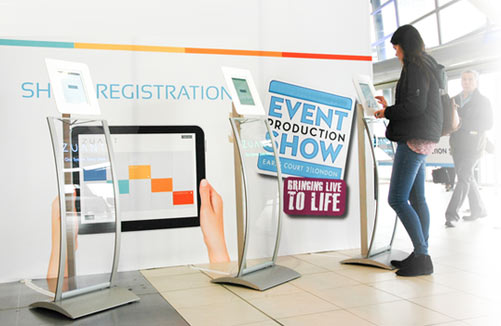 Manage visitors past, present & future
By telling the system about future meetings and events - and the people that are expected to attend them, you can provide additional information tailored to the individual visitor from a personalised welcome message to onward directions
For large meetings and events, organisers can see at a glance how many delegates have arrived and who is still to check in.
Whether your event or meeting is big or small, access to live information about who has arrived means events can start smoothly or contingencies can be actioned more quickly
Quicker and more accurate reporting
There's no need to retrieve and search through your visitor log books in the event of an emergency, information about visitors on-site is available from anywhere in seconds
Should you need to find the previous history of a visitor, it's all logged securely in the cloud. Locating the owner of a vehicle that needs moving is also a snap.
If your delegates enter an email address at signin, you can download the list and email them a summary or thanks as soon as the event ends, building relationships.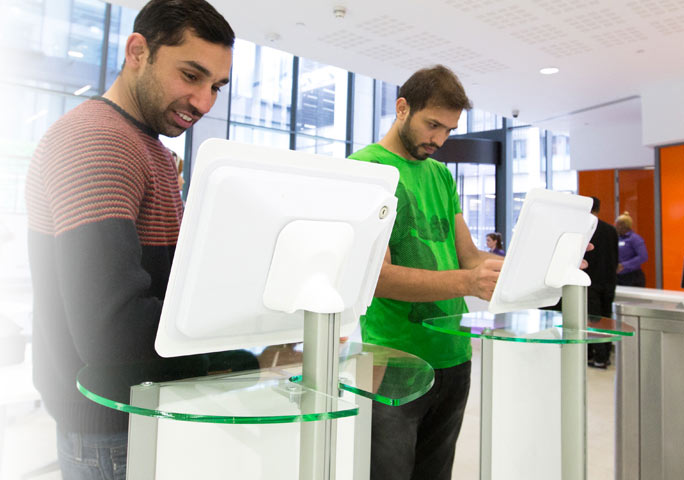 d|sign-in Features
Feature

Benefits
Visitors

Benefits
Receptionists

Benefits
Meeting Hosts

Benefits
Managers

On Screen Self-sign-in and Self-sign-out speeds up time between arrival and meeting
Automatically Printed visitor label
Inform visitor of site details \ warnings
Remember returning visitor details within a set period making for a faster sign-in
Simple to use with an intuitive user interface
Select details from pre-entered attendees list or list of events
Receive information and options only relevant to your visitor type (i.e. Staff, Contractor, Customer etc)
Great first impression
Desktop & Cloud console with list of expected, on-site and recently departing visitors
Manually register and sign-in visitors

Benefits
Visitors

Benefits
Receptionists

Benefits
Meeting Hosts

Benefits
Managers

Automatically retrieve host contact details
Update visitor information (Such as badge number)
Manually sign out visitors individually or in bulk
Set an automatic sign-out for anybody still signed in at a preset time
One Click Emergency On-site visitor list
Pre-print or Re-print labels
Email alert for hosts to let them know instantly that their visitor has arrived
Pre-register expected guests for your meetings
Add a personalised welcome message or update for pre-registered guests
View a list of signed-in \ expected guests

Benefits
Visitors

Benefits
Receptionists

Benefits
Meeting Hosts

Benefits
Managers

Show the visitor directions from sign-in to meeting location
Follow-up Emails - after the meeting send your visitors a thank you message
Comprehensive cloud based back-office suite for administration & reporting – view anywhere
One click fire evacuation report
low running costs, High ROI
Search for visitor by name, company, date or vehicle registration number
Extensive brand and sign-in configuration options
Contractor Management options such as policy acceptance recording
Integrate with d|sign digital signage, events, wayfinding and other content sources
Create a watch list for further notifications when a listed visitor signs in
Automatic photo capture for security auditing

Benefits
Visitors

Benefits
Receptionists

Benefits
Meeting Hosts

Benefits
Managers
d|sign-in Packages & Hardware
d|sign-in is available as a full package including hardware and installation as well as software. It is by no means exhaustive. For more options please visit our dedicated AV store www.coolav.co.uk and give us a call to discuss your requirements 0800 999 3700