Event Display & Roombooking Management
From Arrival to Departure
The Events App improves your visitor experience, adds efficiency to your meetings & events and keeps you up to date.
Combining event management and display with visitor recording and orientation, d|sign Events is indispensible where ever people meet.
Strategically located screens in reception areas, thoroughfares and directly outside rooms show meeting and event information,
whilst interactive screens allow users access and even control of meeting space.
Enhanced Visitor
Experience
Leads to less hassle, less wasted time, a better working environment and increased customer retention.
Seamless
Experience
Configurable branding and layout so that your visitors see a consistent and slick system across all your devices.
Promote
Events
Display event information on large screens, on line &amp outside individual rooms. Reach the greatest audience with the greatest influence.
No more
booking conflicts
Clear on screen and online access to room schedules to find and manage available meeting space, book via your existing system, at screen level or online.
End Visitor
Confusion
Add detailed event media, graphics and messages to personalise your event experience. Integrated with d|sign-in and d|sign Wayfinding to manage visitor flow.
Highly
Configurable
Whether the focus of your event space is internal meetings, organisation visitors or the general public, you can easily setup the system to best suit the needs of the attendees.
Get a free online demonstration of d|sign Events
Different Screens for Different Needs
A range of output methods and devices come together to maximize the effectiveness of the events system for any organisation
D|sign Events Room Screen
A high resolution touch screen panel or tablet mounted outside individual meeting and event spaces, with a range of display options:
Show detail of the current or forthcoming meeting, including general or meeting specific images, times, contact information and more

Show the room current and future schedule

Book available rooms directly from the screen

Allow attendees to register or check-in on screen

Meeting "Start" and "End" buttons to return the space to the available list in the event of non-attendance.

Your organisation's branding and media

View other rooms available in the system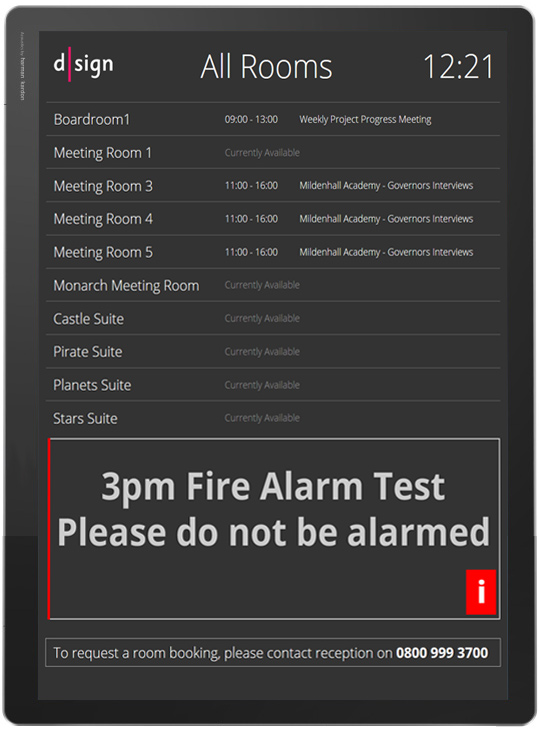 D|sign Event Reception Screen
A large format wall screen or counter top display positioned at entrances and receptions to give an overview of rooms and \ or events taking place.
Dedicated screen or with event information as content within a larger digital signage display

Display events with focus on rooms and the events within, or on events and how to reach the event location.

See room utilisation and availability at a glance

Promote additional services to your visitors

Combine with d|sign in to allow visitors to register arrival and provide personalised instruction for continuing to their destination

Increase speed of visitor throughput and save on reception staff intervention.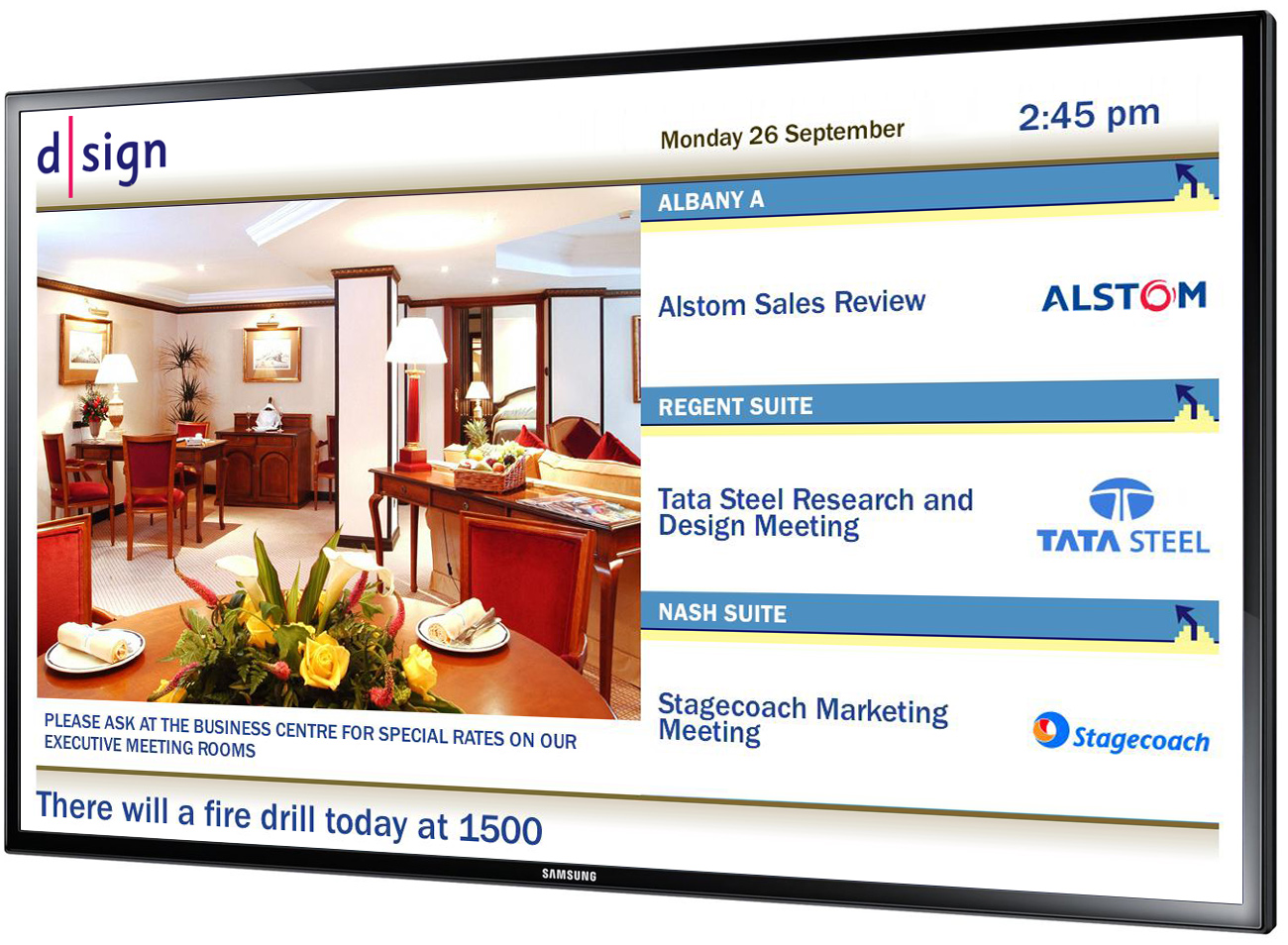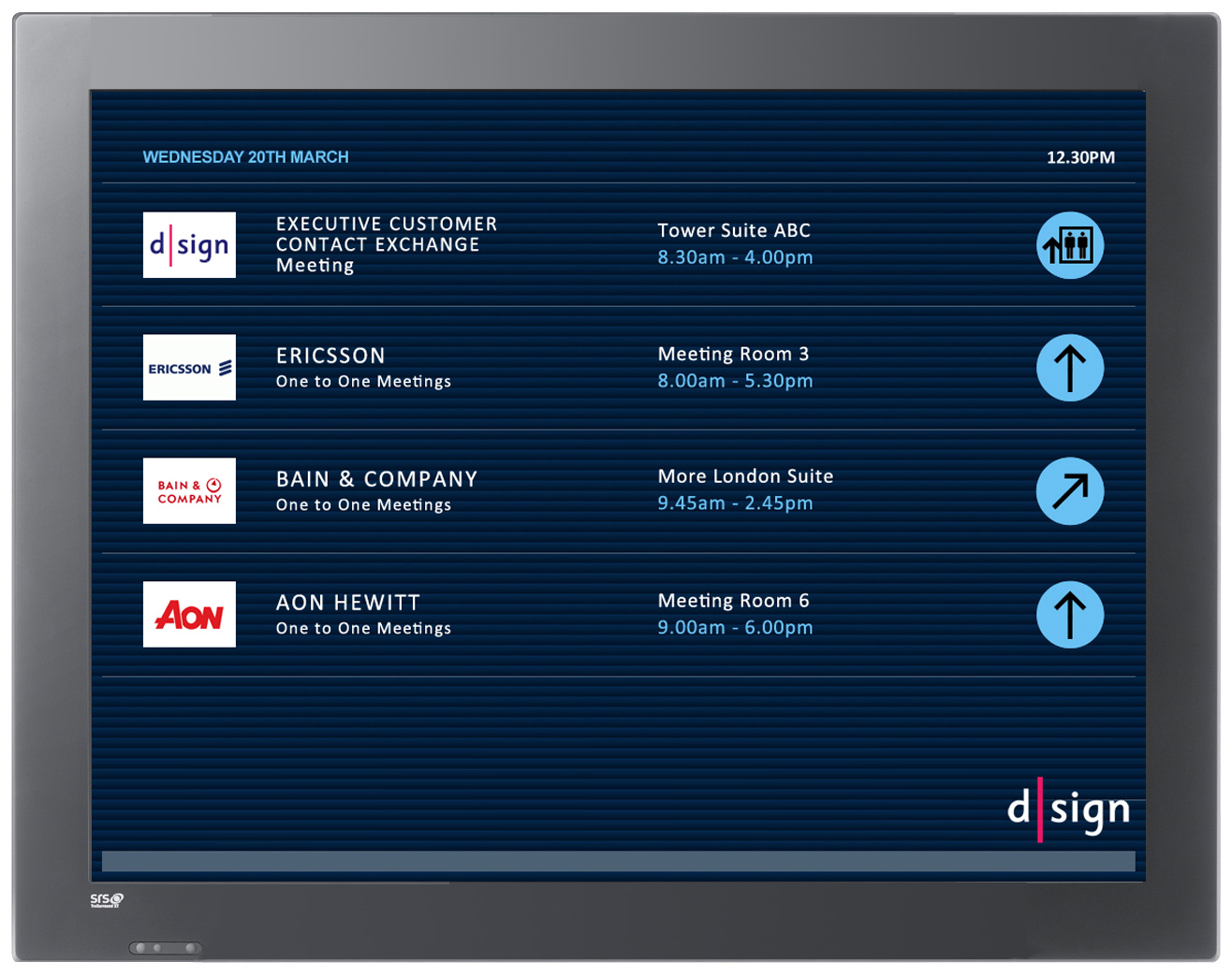 D|sign Event Wayfinding Screen
Strategically placed screens around your venue show easy to follow instructions for moving between areas or to specific locations.
Ideally placed at major junctions or waiting areas, in lift lobbies or between buildings.

Show event information with arrows or written instructions

Floor or building layout plans with key landmarks, room numbers and more

Dedicated screen or with event information as content within a larger digital signage display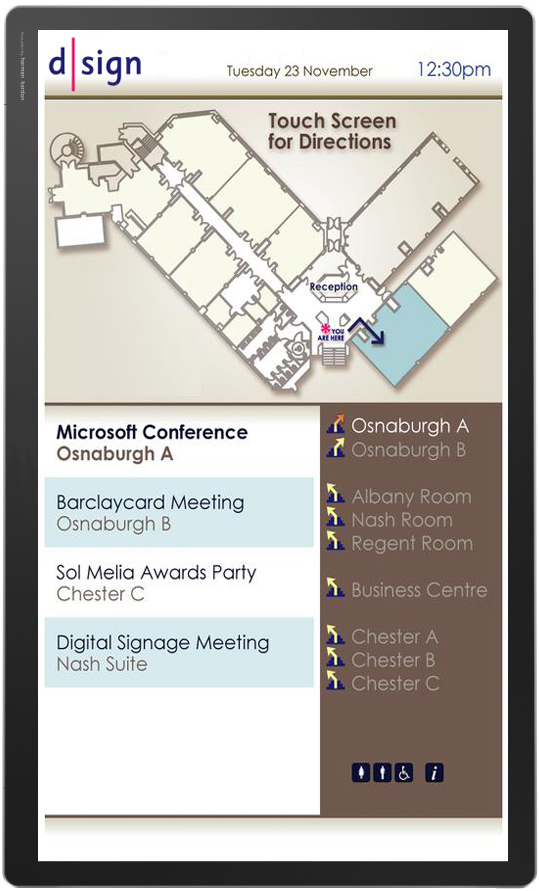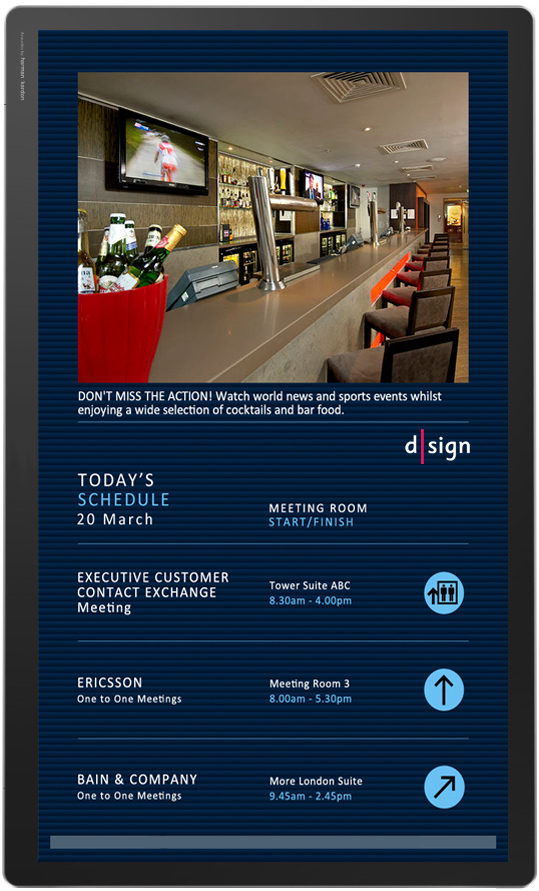 D|sign Event Online
Show your live event information and status on your own website so that visitors can find out everything they need to know before even arriving.
Highly Configurable
Works with your existing systems
You can always add information and detail to your events via our cloud system or manage them entirely within the d|sign cloud, but you can also automatically import meetings and events from other systems as they are created and updated
Microsoft Exchange

Microsoft Office 365

Google Calendar

Facebook Events (Coming soon)
Repeating Events
Make your events reoccur so you never have to worry about space being available for the monthly board meeting or school assembly.
Do it your way
With a range of options for each display type the system works the way you need it to, whether you are a conference centre, an events venue, managed offices, a hotel, a hospital or a school. Your focus may be the venue, people, space or the event, but whether there are people coming together - d|sign Events will help you manage it effectively.
Your Look
Personalise all the displays with your logos, media, colours and text so that the screens really represent your organisation.
d|sign-in Packages & Hardware
d|sign-in is available as a full package including hardware and installation as well as software. It is by no means exhaustive. For more options please visit our dedicated AV store www.coolav.co.uk and give us a call to discuss your requirements 0800 999 3700