Digital Signage For Transport - Internal Communications
Communicating to a diverse and distributed workforce effectively
Objective: Communicate corporate and local information to a diverse workforce, many of whom do not have access to email and may only be at a central location for short periods of time each day.
Solution: Use centrally managed d|sign with screens strategically placed in driver output, engineering and rest areas at each garage. Give local managers and department leaders access to provide local content autonomously via the d|sign cloud.
Call us to find out more about internal staff communication
0800 999 3700
An informed workforce are less prone to mistakes, more efficient and more effective.
Local managers can contribute content instantly from mobile devices or the desktop using d|sign cloud
Less printing, less time spent changing posters. Information can be updated in real time or scheduled.
A one stop information focal point
Finding a balance between providing the on-screen information you need staff to see, and the information users want to see can be challenging, especially when viewers may be at multiple garages over a wide area.
Using d|sign makes finding the balance easier, empowers local managers and leads to more informed staff. A well informed workforce leads to less mistakes and less wasted time, as well as improved morale.
While centrally you are providing corporate messaging and globally important updates such as group performance and health & safety, here are just some of the things local transport managers can contribute to screens in their garage or region:
Automated local weather, traffic issues, underground line status and news feeds.
Rosters of key members of staff, first aiders or even "Driver of The Month".
Key Performance Indicators such as "Lost Mileage", "Passengers Transported"
Totalisers such as "Days since last accident" and countdowns to new routes, services or fare changes
Events diary for both corporate and social engagements
Menu Boards for staff canteens.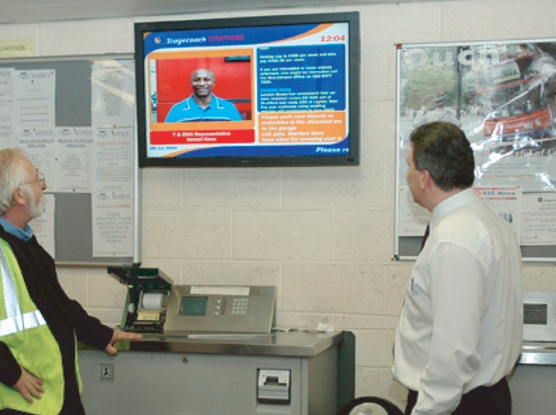 By allowing local managers to provide content staff will actively look for, they will naturally see additional messages that they may otherwise miss
Getting the right kit, in the right place
The average garage is as diverse in it's contruction as the staff that work there, from busy offices, to harsh engineering bays, so we also advise, supply and install a range of screens, computers and enclosures suitable for any environment.
To discuss your hardware requirements, please call us to arrange a site survey. 0800 999 3700