Digital Signage For Transport - Interchange
A modern solution for passenger information and engagement
The d|sign Passenger Information system provides a full solution for managing and displaying passenger information across a range of devices and platforms to meet every need of the modern interchange.
Bringing together both scheduled and live transport data with promotional, advertising and value added media for the passenger, and all managed and monitored online.
Call us to discover the power of d|sign for your interchange
0800 999 3700
Bay \ Stand Departure Boards
As well as traditional departure information, a powerful messaging system can be employed to distribute information to passengers at the Bays or stands. Messages can be scheduled or added ad-hoc and defined for Bays, Services, Specific Departures, the whole station or any combination of these.
Inform travellers of imminent departures at a specific Bay or Stand
Overview of upcoming departures from the bay with service, destination and scheduled departure time.
Shows greater detail including major stop list for the imminent departure
Can also be used to present informational messages to passengers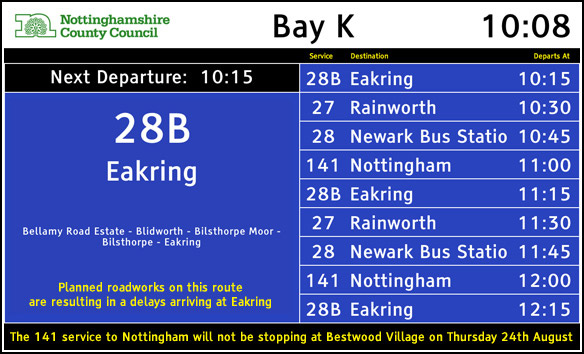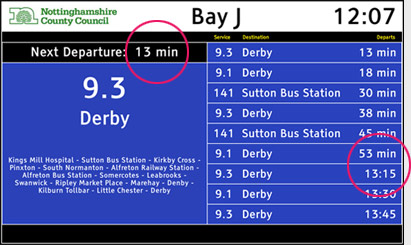 Departure times updated with real time telematics if available
Fall back to scheduled departure time if real time unavailable
Up to 1 month of scheduled departures held on each screen in case of network or internet disruption
Screens can be set to turn off or display alternative media after last departure of the day.
Usually wall or ceiling mounted at the location travellers will board the bus
Station Departure Boards
Inform travellers of imminent departures at all or groups of bays within a transport hub.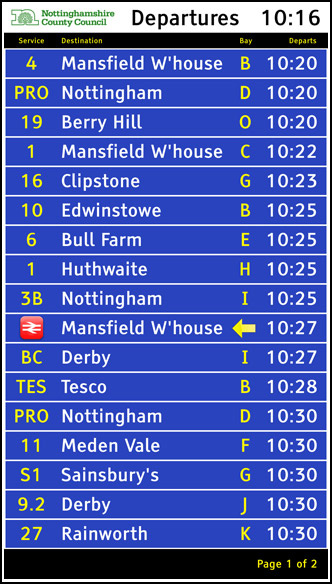 Wall, Ceiling or Freestanding mountings
Combine multiple screens into "departure walls"
Single displays can paginate through a large departure list.
Can automatically include departure feeds for adjacent hubs of a transport interchange.
Direct passengers to a designated bay or direct them to another area with arrows.
Include additional information which may useful to passengers.
Locate at entrances and major passenger thoroughfares.
All data centrally maintained.
Provide alternative display names for destinations to ensure on-screen clarity.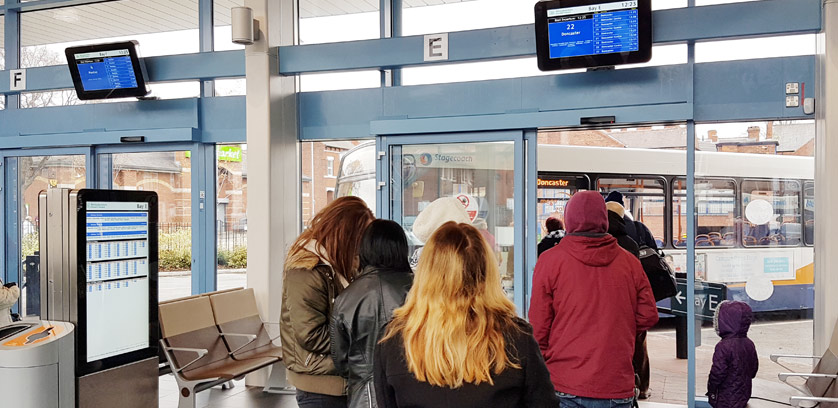 Service \ Bay Schedule Boards & Totems
All components generated and updated dynamically and automatically from your data, no design or fiddling with templates required
Presents future schedule information to travellers
Timetable, display, configuration and monitoring managed centrally and updated in minutes.
Give service number, name, description, operator, stop list and full schedule.
Use colours to increase readability and promote station or operator brand awareness with travellers.
All components generated and updated dynamically and automatically from your data, no design or fiddling with templates required.
Free standing or Wall Mounted, New build or retro fitted to existing sites
Single \ double faced displays
Full HD in a range of sizes
Available for indoor and outdoor environments. IP65 Rated.
Aesthetically pleasing and built to last.
Automatically paginate with service information or advertising collateral.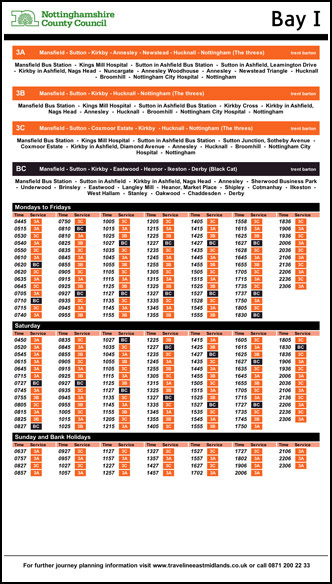 Screen Media, Feeds and Passenger Engagement
Capitalise on unused space on your screens with Media, Messages, Notices and more for your passengers
Lots of different content from d|sign Apps is available to extend your displays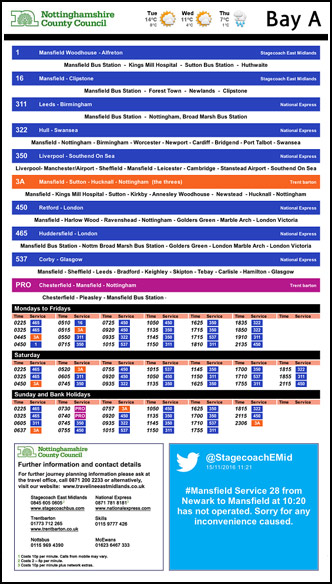 Image galleries of local events, authority marketing, special instructions.
Powerful features to pull live and relevant info from Operators social media accounts like Twitter.
Give external providers, such as bus operators or in-station coffee shop managers the opportunity to contribute content that benefits your passengers.
Generate revenue by selling advertising space to local business through InfoLocal.
Improve customer service by showing team member info via the d|sign Rosters App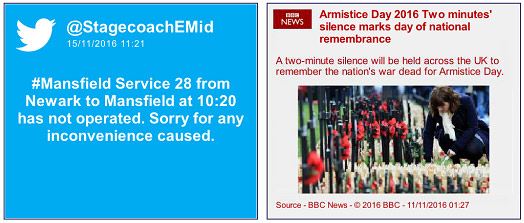 InfoPoint Kiosk for Transport
Take your passenger experience to the next level with an interative touchscreen InfoPoint
Offering all the functionality of a standard totem, a touchscreen kiosk also adds the ability to give passengers more in-depth information as they need it, onward Journey planning and much more
Journey Planning
Local Maps
Community Events
Live Departures
Direct Customer Feedback
View Departures by route or destination
Browse local authority website
Indoor and Outdoor available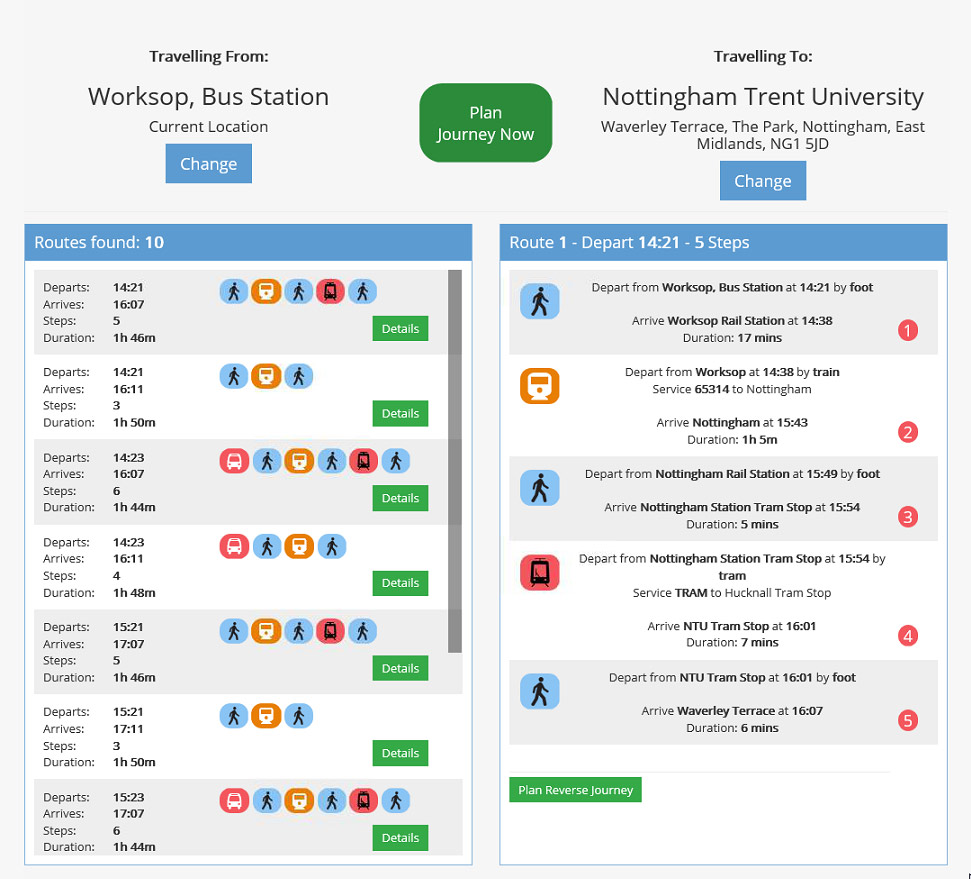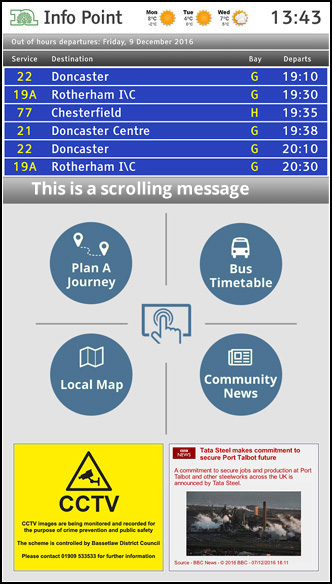 Facility Management - Not just Passengers
As a busy working environment, you need to consider staff, drivers at rest and contractors too.
d|sign-in Visitor management solutions take care of managing people and keeps track of all non-passenger personnel, in case of fire, emergency and for contractor site awareness and auditing. Click here to learn more about d|sign-in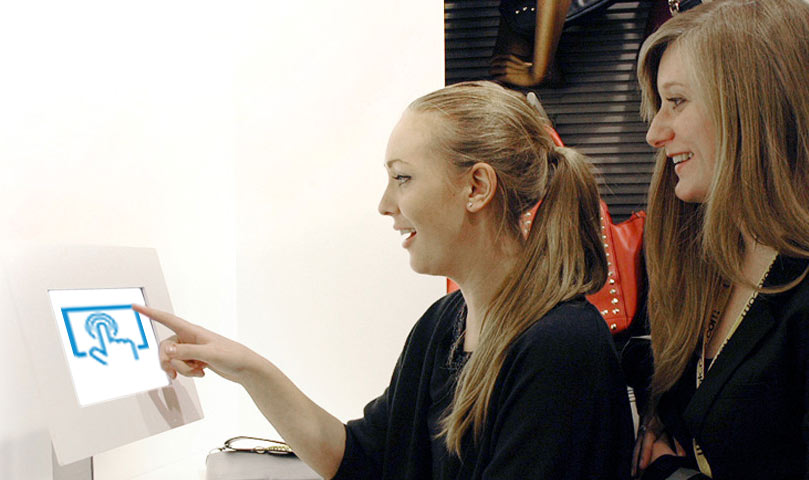 Staff sign-in \ out
Badge and pass printing
Audit contractors
View visitors centrally
Produce muster list in an emergency
Health & Safety Notices for appropriate visitors
Data management
Core departure scheduling data can be imported and combined from multiple sources. Most transport managers may find that they have different data sources for County, Inter-County and Localised services, or rely solely on the Traveline National Dataset. The system allows the import of each source individually or automatically; and there is no need to re-import the other sources because one has been updated.
As data is imported, or at any point after the data has been imported the transport manager can view, edit and check for departure clashes within the schedule.
When new or updated data is saved in the central database, the displays update rapidly to reflect any changes. Screens keep a copy of the future known schedule so that any loss of network communication does not disrupt the passenger experience.
Live Data Integration
Have displays update the departure times with live data from bus telematics if available.
Combine departures board with services from adjoining transport hubs such as Rail, Air and Ferry
Display Monitoring
Displays at a station can be monitored in real time, with the option to view the screen and interact with it if necessary for maintenance purposes.
Screens report their status with a "Heartbeat" monitor so you can quickly see any issues and outages and act accordingly
Restart, update and trouble shoot screens centrally.
Display Information Correction
A range of controls are included so that you can change the way imported scheduling information is displayed to the passenger. Adjustments are remembered and applied for each data import so that you don't need to configure them every time.
Give stops and destinations more locally recognisable names, correct national spelling mistakes or make the stop description more succinct.
Apply route or operator branding colours to make your timetables easier to understand
Apply notes for route deviations on specific timetable departures
Display Messaging
A powerful system is included to distribute messages to passengers at the departure Bay.
Messages can be scheduled or added ad-hoc and defined for Bays, Services, Specific Departures, the whole station or any combination of these.
Inform passengers about scheduled or unexpected delays, route changes or external conditions.